To the lazy people out there like me, we pray and hope that our wish came true. Cleaning anything seems like a lot of work and a burden to us. But it's not the case for gun lovers. If you like the things you own, I'm sure that you find joy in maintaining those tools and ensuring smoothness.
So, this article is for all of you who love to clean your gun and who don't love to go through much work. Reading further, you'll know how to clean quickly without much effort which will be helpful for people like me. You'll also know more detailed information about gun cleaning which will help gun enthusiasts. If you looking, at how to build gun safety go here.
I'm not only focused on "how often do you need to clean your gun" but also on how to do it correctly. So, let's jump right into it.
Why Should Clean Your Guns?
The first question that comes knocking is why do it in the first place? So, to motivate you to do the cleaning like a hobby, I've got some reasons to discuss it.
Cleaning ensures longevity, and I can tell you from experience. I guess you don't have to be an expert to realize that regular cleaning makes any equipment last longer. Good quality material and build quality matters but maintenance make sure of its best.
Cleaning will give you an insight into how your gun works. Knowing how it works, you'll immediately know how to fix problems. So, it's a big win.
Cleaning and lubricating property is not a very simple task for an

air pistol

. You must stay careful while doing that. So, doing it regularly will develop a skill that will be appreciated by your friends and family.
Finally, cleaning guns will make you more comfortable shooting them and give you the confidence you need. By doing it on your own, you'll know the safety features of your gun. Moreover, cleaning will do a gun safety test every time automatically.
Is There Any Golden Rule for Gun Cleaning timing? Let's Find Out!
You won't find a straightforward answer to the question "how often do you need to clean your gun". Gun manufacturers try their best to minimize copper or lead build-up. But still, you'll find some foul done to your gun.
It varies depending on the humidity level, the frequency of use, the material type, and the location of the gun safe. Nothing can beat the judgment you'll make by yourself considering your unique situation. Consider all those factors, and you'll know how often you should do it. Maybe you can clean it once a week or twice a week, you decide. But try to clean and lubricate it after every use. It's for the best. Use and buy the best gun cleaner and gun cleaning solvents by reading our expert reviews.
Proper Cleaning Can Be Done in Several Ways
This section will solely help you to clean your gun like a pro. The point is to clean strategically which will ensure less work but more cleaning. Do not work hard, work smart.
01. Things you'll need
The chemicals and tools are necessary to clean your gun properly.
A Gun Cleaning Solvent
Gun Degreaser
HandGun Lubricant
Gun Protectant
Organization Tray
Towels & Cleaning Rags
Toothbrush& Bronze Brush
Bore Guide
Q-tips & Patches
Pipe Cleaners
02. How to Do It?
I'll explain and guide you through every step for cleaning your gun effortlessly. These steps are small and easy to follow. So, let's start
Step 1: At first, ensure the weapons are correctly unloaded. Then, read the owner's manual for specific instructions to disassemble your gun. After that, wet a fresh patch with solvent and clean the outer parts of the gun.
Step 2: Secondly, dip the Bronze brush into the solvent and move it in & out down the barrel 10 to 15 times. Use different types of brushes to clear properly. Leave it for some time to let the solvent do its magic.
Step 3: At this point, the solvent did its work, and you should use a fresh patch or rug to clear out all greasy filth from inside as well as outside. When the rug is dirty, throw it and use a new one until the rug seems fresh even after clearing the gun.
Step 4: Finally, use some light lubricant that doesn't attract too much dirt and works in extreme weather. Also, remember not to overdo the oiling.
I'm Not Insisting, But You Won't Be Able to Resist Yourself After Seeing The Reviews of These Products.
Recommendation for Gun Cleaning Kits
Yes, I'm going to give you some great suggestions. You'll get baffled by the numerous types of gun cleaning solvents in the market. But I'm here to suggest the best ones so that you can choose without any hassle and don't get tricked by someone else.
01. Hoppe's No. 9 Gun Bore Cleaner (The Best Solvent)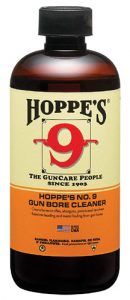 Since 1903, Hoppe's No.9 has been most widely used to fight powder, lead, metal fouling, and rust. The formula works perfectly to penetrate profoundly and rapidly.
This gun bore is cleaner is useful, efficient, safe, and easy to use. For extra security, it has a child-proof cap. This one is the people's champion. Buy Now on Amazon.com
02. Slip2000 EWL (The Best Lubricant)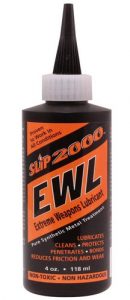 By the reviews and ratings, you can say this one is the best lubricant in the market. Slip2000 EWL lasts 5 times longer than traditional lube.
No carbon, copper, lead, or plastic buildup is possible when you apply this lube. Professional gun users vouch for this product. You can trust this one. Buy Now on Amazon.com
Only 2 products! Yes, both are necessary for completing the cleanup process. Both are the best in their respective fields.
But the list of best gun cleaning solvents and best lubricants will lead you to the realm of great products which you'll get by clicking here.
Final Words
Talking about gun cleaning brings up the talk about gun cleaning solvents. You can trust our best gun cleaner reviews and make your cleaning efforts count. Hoppes, Slip, or CLP gun cleaners are some of the best in the market. Read our detailed reviews and comparison to get a clear idea.
In the end, all that matters are a smoothly working gun for your safety. Without proper cleaning and regular maintenance work, all you'll have to depend on is your luck. My purpose is to keep you loaded and ready for any situation. Happy cleaning!